By: Emma Kwee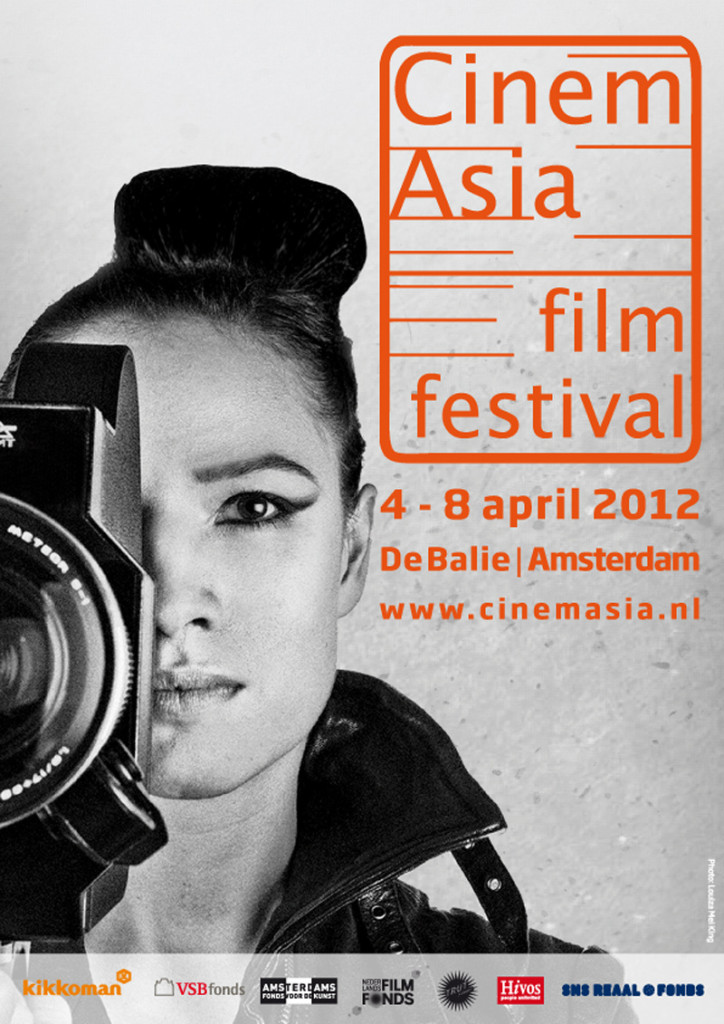 Coming Wednesday April 4 the CinemAsia Festival 2012 kicks off in Amsterdam! Latitudes is going to be there, and so should you! The fifth edition of this eclectic film festival brings a wonderful variety of films from all over Asia. The theme this year is Asian Way, which refers to the fact that 'Asia,' 'Asians' and 'Asianness' are not to be pigeonholed. Prepare to see brave documentaries, big blockbusters and fabulous tales that show the diversity of Asia.
How to choose from over 40 fabulous films? Here we share our picks with you, to help you out!
What to see @ CinemAsia on Wednesday April 4
19.30-22.00: The opening film at CinemAsia 2012 is the number one box office hit of 2012, Director Derek Yee's 'The Great Magician' (China 2011). In the early 1920's, on the streets of Beijing, the nation's most talented performers have gathered to show off their most spectacular skills. One day, a challenge is set: 50 silver dollars to whoever can reproduce the incredible 'Eight Immortals' magic trick. Zhang Xian appears amidst the waiting crowd and decides to try his hand at it. His amazing tricks catch the eye of the local warlord Lei who enlists Zhang's help in order to win the affections of the great beauty Liu Yin, a woman he has forced to become his seventh concubine. But little does he know that she is the magician's childhood love. The competition between to two powerful suitors leads Zhang to conjure his best illusion yet in order to defeat the warlord and win his love back. Can't make it on Wednesday? The Great Magician will also be shown on Saturday night at 23.30 – 01.25.
Trailer:
What to see @ CinemAsia on Thursday April 5
18.00-19.30: The FilmLAB shows new talent in film. Three young film makers got selected to produce a short film for CinemAsia. One of them is our very own Ari Purnama, who made a short film 'The Attachment to Rice' about an Indische grandmother who is put into an elderly home by her children, a very current theme in the Netherlands.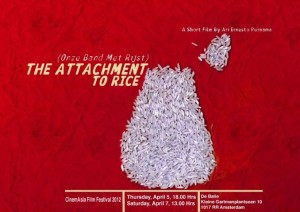 Daan Vree made a short film titled 'Aangenomen' (Adopted), about a Chinese couple considering adoption. Yin's mother cannot get used to the idea, as the couple is determined to adopt a white boy. Igrien Yin Liu made 'Generation Y' about four young women of Chinese-Dutch descent playing Mahjong together, talking about their expectations and perspectives on life, and how much the resemble those of their parents.
19.45-21.30: 'Golden Slumbers' (Cambodia 2011) certainly has our attention. Director Davy Chou's newest documentary, 'Golden Slumbers,' follows the heartfelt stories of Cambodia's young filmmakers recollecting the prime of Cambodian cinema. He illustrates the devastating repercussions of the repressive and blood-drenched Khmer Rouge era in 1975, but highlights the inspiring efforts of these artists to revive the film industry from the 'golden slumber' by recreating old films.
Trailer:
21.45-23.20: 'Bi, Don't Be Afraid' (Vietnam 2010) is a sensual film about sexual desires and unspoken feelings long suppressed in a Vietnamese family. Set in Hanoi, Director Pang Dang Di explores the circumstances that surround six-year-old Bi. His grandfather struggles with an incurable illness and his mother is a submissive woman whose sexual desires have long been ignored by her alcoholic husband. His aunt is an old spinster who never stops daydreaming about a beautiful young student. The housekeeper witnesses the dysfunctional family's problems and weaves it into an unforgettable tale.
Trailer:
23.00-00.15: 'Lovely Man' (Indonesia 2011) is Director Teddy Soeriaatmadja' story of Cahaya, a 19-year-old girl with strong Islamic values, who has grown up in the countryside. After discovering that she has accidentally become pregnant, she travels to Jakarta to find her long lost father. However, she discovers that is he is now a transvestite sex worker that has been sending money home all her life. The story unfolds over one night as they walk the streets of Jakarta and explains how the encounter changes their lives, as they learn about love, loss and redemption.
Trailer:
What to see @ CinemAsia on Friday April 6
20.00-21.30: International festival favorite 'Red Light Revolution' (China 2010) by Director Sam Voutas is about Shunzi, a hard worker struggling to provide his spouse the life she desires. When he is fired, his wife promptly throws him out. Moving in with his parents, a child friend provides him the business tip that could turn his fortunes around: Open up an adult store. A humorous look at Chinese tradition colliding with modern sexual values, Red Light Revolution is the story of an ordinary man defying all the odds to make it big in China's newest, most unorthodox industry.
Trailer:
21.45-23.10: 'When Hainan Meets Teochew' (Singapore 2010)is a sweet queer romantic comedy about the unlikely relationship between a butch lesbian and a transgender man. This Singaporean film illustrates the developing relationship between "Hainan-boy", who has lost her bra, who begins a search for the bra thief that leads her to Ms. Teochew's house. Ms. Teochew is then kicked out of her own house by her unsympathetic Indian roommate, and in an act of compassion, Hainan-boy invites Ms. Teochew to live with her. In the unlikeliest of circumstances, they begin to develop a unique and unexpected love.
Trailer:
22.00-23.30: 'Zombadings' (Philippines 2011), is a hilarious gay zombie movie that will have you rolling on the floor with laughter. It is a coming of age movie with horror elements and queer romance. When Remington is 18 he turns from a handsome macho straight guy into a flaming gay man due to a childhood curse from a mysterious man with a rainbow ray gun. While Remington is busy adjusting to his new life change, his mother a police officer is busy with the case of the homosexual man-killer which stirs up all the gay zombies in the neighborhood and making things much more interesting!
What to see @ CinemAsia on Saturday April 7
13.00-15.00: The FilmLAB returns for those who missed it on Thursday the 5th. As a bonus, besides the three short films mentioned before, Director Annegriet Wietsma's 'Tuan Papa' takes the audience back to wartime Indonesia between 1946 and 1949. Many of the Dutch military that were stationed there fell in love with local Indonesian women and conceived children there. Wietsma collected tales from fathers, mothers, and children about the various perspectives and cultural clashes that came about. Eighty-year-old war veterans talk about their love stories and hardships during wartime. Note: Subtitles during screening will be in Dutch.
16.00-17.00: 'In the Matter of Cha Jung Hee' (Korea 2010) tells the remarkable story of Cha Jun Hee, a Korean adoptee who came to the US in 1966. Her passport said she was Cha Jung Hee. She knew she was not. Told to keep her true identity a secret from her new American family, this eight-year-old girl quickly forgets her real name and identity for the next forty years of her life. But why had her identity been switched? And who was the real Cha Jung Hee? 'In the Matter of Cha Jung Hee' follows the search to find these answers. Acclaimed filmmaker Deann Borshay Liem returns to her native Korea to find her 'double', the mysterious girl whose place she took in America.
Trailer:
16.15-18.10: 'Rent a Cat' (Japan 2012)is about a strange woman named Sayoko, who has always had a mysterious affinity towards cats. As a side job, she enjoys renting cats to those in need. Though this seems like an odd occupation, the cats comfort lonely people in various situations: an old widower who lives alone waiting to die, a middle-aged man longing to reconcile with his family, and a receptionist who has doubts about her life. While she helps these people, she wonders why she herself cannot seem to attract people the way she attracts felines. Slowly, the people around her overcome their misunderstandings of the "crazy cat lady" and she is able to form new connections with the people surrounding her. Inside informants tell us this film is hugely popular, so get your tickets while you can!
Trailer (note: subtitles will be in English during screening):
18.45-21.00: In 'Say Sing' (Taiwan/China 2011) Director Kuang Chong Yu follows the journey of Chinese progressive band Xi Shan, also known as West Hill. In the southwestern province of China, Yunnan, four youths came together to create music to express the harsh realities surrounding them. Immersing themselves into the protest genre of hiphop in their own Kunming
dialect, they incorporate
 traditional instruments in a unique fusion style. Their lyrics are laced with humor, satire revolving around social, emotional and controversial topics. However, due to the provocative nature of the tracks and the choice to rap in their own dialect instead of the national Mandarin language, they were constantly rejected by Chinese record companies. Yu understood their hardships and was inspired to bring the band's story to the attention of the world culminating in the making of this eye-opening documentary.
Trailer:
What to see @ CinemAsia on Sunday April 8
14.00-15.40: 'Catatan Harian Si Boy' (Indonesia 2011) is  an Indonesian blockbuster from 2011 that caused a Twitter-explosion in Indonesia, this movie is a sequel of the popular Catatan Si Boy series from the eighties. Satrio is mechanic and meets Natasha who comes home from London to take care of her ill mother and falls madly in love with her. Natasha finds a diary that her mother keeps with her at all times, and tries to uncover the mystery behind its owner's identity. Together, Satrio and Natasha try to find 'Boy', her mother's ex-lover. The love triangle complicates their relationship and is supported by Satrio's funny friends.
Trailer (note: Subtitles will be in English during screening):
16.00-17.40: 'The Mirror Never Lies' (Indonesia 2011) features the nomadic Bajo tribe of Indonesia, known as sea gypsies for building their temporary homes on stilts. In this ecologically themed drama, exquisitely photographed on and around the pristine isle of Wakatobi, first-time director Kamila Andini has made a convincingly lyrical tale about a 12-year-old girl's spiritual journey. Young 12-year-old girl, Pakis is devastated when, one day, her father disappears at sea. A frayed relationship with her mother pushes her to cling to her mirror, in the hopes of seeing through traditional magic rites, her father's reflection. Made in collaboration with the WWF Indonesia.
Trailer:
16.15-18.00: 'Planet of Snail' (Korea 2011), by Director Yi Seung-Jun is a beautiful and moving documentary and the deserving winner of the IDFA Award 2011 Feature Length Documentary Competition. Blind and deaf people in South Korea are called 'Snails' due to the fact that they only have tactile contact with the world and communicate solely by touch. Protagonist Young-Chan became a 'snail' after a serious infection at a young age. He makes contact by reading books with his hands and writing poems and essays.  Unfortunately, his books never reach the public until he meets a woman. Soon-Ho, his soul mate, who changes him as they embark on the biggest adventure of his life.
Trailer:
20.00-22.00: 'Arisan!2' (Indonesia 2011) Eight years have passed since Nia Dinata's successful and controversial Indonesian comedy ARISAN! which featured the first homosexual kiss in Indonesian cinema. This Indonesian style Sex in the City is a fun playful sequel set in Jakarta and the exotic Indonesian holiday islands full of sun, fabulous fashion, gossiping friends, rich socialite fag hags and lots and lots of Botox. Set eight years after the first movie, the characters Sakti, Lits, Meimei, and Andian have separated in different directions while still maintaining their strong friendships. Andien's husband has died, Meimei has divorced hers, and Lits rejects the concept of marriage altogether. In addition, Meimei mysteriously decides to live on the Gili Islands apart from the others. She struggles to keep a secret, but after it comes to light, the glamorous friends come together to support her.
Trailer:
21.45-23.15: 'The Perfect House' (Indonesia 2011) is a captivating story by Director Affandi Abdul Rachman. After losing her parents in an accident, Julie decides to take a break from work to try and deal with the trauma. But when she is asked to tutor a boy who has also lost his parents in tragic circumstances, she can't say no. When she begins working with the boy in the house he shares with his grandmother, she discovers a dark secret that will threaten her life.
Trailer:
This is just our pick from the program. There are over 40 films shown, so please refer to the CinemAsia website for the full program and to get your hands on those tickets! We will keep you up to date during the festival with film reviews, interviews and more film tips!