Five years later and 1000 articles posted. Latitudes is alive and kickin'. Nice to look back at this event today exactly 5 years ago.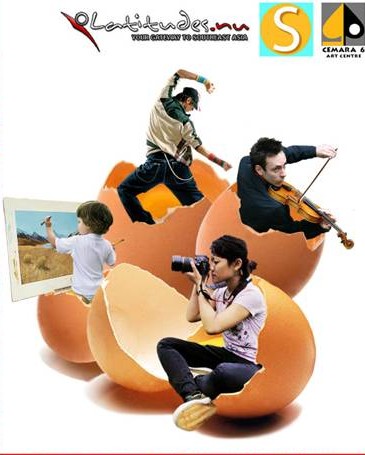 Latitudes.nu has been online for 1,5 year now.In that period we published over 500 articles, by talented Southeast Asian writers, expats and travelers.
Time to celebrate! That's why on May 12, Latitudes.nu throws a party at Cemara 6 Gallery Jakarta. In cooperation with Spotlight Media Centre, we bring you the best of Latitudes.nu live on stage! This community event will feature bands, artists, photographers and more.
Program Latitudes.nu 'Creative Talent Unleashed'
Photography exhibition & photography workshop
Photographers grab you cameras en come to our event. There will be a photo exhibition featuring 5 talented young photographers: Noorman Wijaksana, Labodalih Sembiring, Aisah Wolfard, Tino Djumini and Wisnu Leonardus. The work is all for sale and 1/3 of the proceeds will go to the fantastic Onedollarformusic foundation that supports young Indonesian musicians unleashing their creativity.
Besides the photo exhibiton there will be a free portrait photography workshop by Tino Djumini. During this workshop a short presentation about the origins of photography as an art and medium will be followed by a discussion and photography on the spot. At the end of the day the best three photos will be rewarded with some great prizes!
If you want to participate in the photography workshop be sure to register early (between 09.30-10.30) as there is only room for 20 people and to bring your camera!
Film
Two short films by Febian Saktinegara and Ari Purnama will be screened, followed by a Q and A with the filmmakers. Febian Saktinegara is an avid DSLR filmmaker. His lyrical non-narrative documentary on the contemporary urbanity of the capital city Jakarta, entitled "Merangkum Jakarta", has won praise, nominations and awards ranging from the SBM Golden Lens Award of the Erasmus Huis Jakarta to the Special Artist recognition at the ASEAN-Korea Multimedia Competition 2011.
Ari Purnama presents his short film, The Attachment to Rice, a moving story about a Dutch grandmother of Indonesian descent who is persuaded to check in to a nursing home by her children. A very current subject in the Netherlands, that might become an issue in modern Indonesia as well. Even though she agrees to their barrage of arguments, on the inside she is boiling. Several weeks later she invites her children over for a visit. Persuading them with nasi tumpeng (a family favorite), the whole family shows up. All they find are children's clothes, a richly adorned plate of rice and a videotape…
Besides these two young talented filmmakers, we also bring to the stage Garin Nugroho, one of Indonesia's most lauded filmmakers. In a live interview we will talk with Garin about his passion for cinema and his projects past, present and future. Garin Nugroho (1961) rose to fame with films like  Cinta dalam Sepotong Roti (Love in a Slice of Bread 1991), Daun di atas Bantal (Leaf on a Pillow 1998), Opera Jawa (2006). In total he made no less than 19 films, many of them not shying away from controversial subjects.
His latest film Soegija, about the first Indonesian archbishop, Albertus Soegijapranata, is currently in post-production.. Soegija was considered a national hero to Indonesia in his time and became famous for standing up to the occupying Japanese government and continuing the care and the existence of the St. Carolus Hospital. Watch the offical trailer (in Dutch and Indonesian) below:
Performance Art
Leak Sosiawan will perform his original, endearing yet daring "Sarung." Based on the traditional cloth worn by Indonesian men, Sarung shows the struggle with political freedom, traditions & faith in a way that is both hilarious and disconcerting. Leak was born in Solo, 23 September 1967. He completed his studies at the Faculty of Social and Political Sciences at the State University (Solo, Indonesia). Ever since he has been a theater and literary artists who actively works in collaboration with artists from various countries.
Gerard Mosterd is a cultural entrepreneur, theatre maker, choreographer, lecturer, publicist and cultural advisor. He was raised in Amersfoort, the Netherlands in a Dutch-Indonesian family. Upon graduation at the Royal Conservatory in The Hague, Gerard followed an international career as a dancer with renowned dance companies such as London Festival Ballet, English National Ballet, Hwa Kang Dance Company, Concordanse Paris and Basel Ballet. Since the late nineties Gerard produced and created 27 independent dance/theatre productions inspired by issues concerning and interaction between Asia and Europe.
Gerard will give a brief introduction to his physical theatre work, his motives, past, current and upcoming projects including a project inspired by Walter Spies in collaboration with film director Garin Nugroho, theatre director Yudi Tajudin and visual artist Mella Jaarsma. After last years highly acclaimed and sold out Javanese tour of Stravinsky's L'Histoire du Soldat with a star cast and chamber orchestra, choreographed by Gerard, this project will open the upcoming Indonesian Dance Festival, early June.
Music
What is an event without music? In the morning the enormously talented Windyasari will take the stage. This former guitarist of indie rock n roll band Jack and Four Men, has gone solo since 2011. She has been playing guitar since she was 14 years old, training in classical, pop, rock, and jazz guitar and lately leaning more and more towards blues. Listen to her amazing demo here.
Jirapah formed in Brooklyn, New York City, by Ken Jenie and Mariati Galo, an eccentric and happy Indonesian couple who also happen to like and make psychedelic ambient indie rock music. Despite already gaining a respectable following in Brooklyn, Mr. Jenie only recently relocated to Jakarta and the band is rapidly starting to get noticed in the independent music scene.
They recently formed a new line-up, adding drummer Januar Kristianto and guitarists Yudhis Tira and Nico Gozali, while Mariati Galo took a backseat. This is them playing at the recent Design Statement Weekend Festival in Kemang, Jakarta: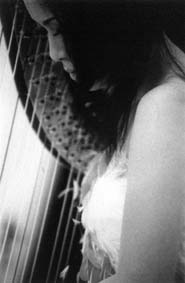 Maya Hasan is a harpist extraordinaire who uses the instrument favored in stately salons and classic affairs, in her own unique way. Born in Hong Kong on 10 January 1972 , she learned playing the harp from Heidy Awuy in Jakarta, after completing Junior High School.
Later, her musical studies took her to the University of Willamette, Salem, Oregon in the United States (1990-1993) under the training of Laura Zaerr, in which she majored in harp performances. There, she appeared in the Salem Chamber Orchestra of Oregon, Oregon Ballet Theatre also featured in a local radio, tv channel, and The Senate of Oregon. After her return to Indonesia in 1993 she took to fusing the harp with traditional Indonesian melodies, as well as modern music.
What Else?
The event is free, but make sure you get on the guestlist by e-mailing info@spotlightcentre.org, as there is limited capacity. Start is 09.30-16.30. Lunch, coffee, tea and snacks will be served. All guests receive a goodie bag.
The event is organized in cooperation with Cemara 6 Art Gallery, Spotlight Media Centre, Indofood, Bartele Art Gallery, Indo Art Now, Initial Design and Jakarta Expat.