By: Jesse Pizarro Boga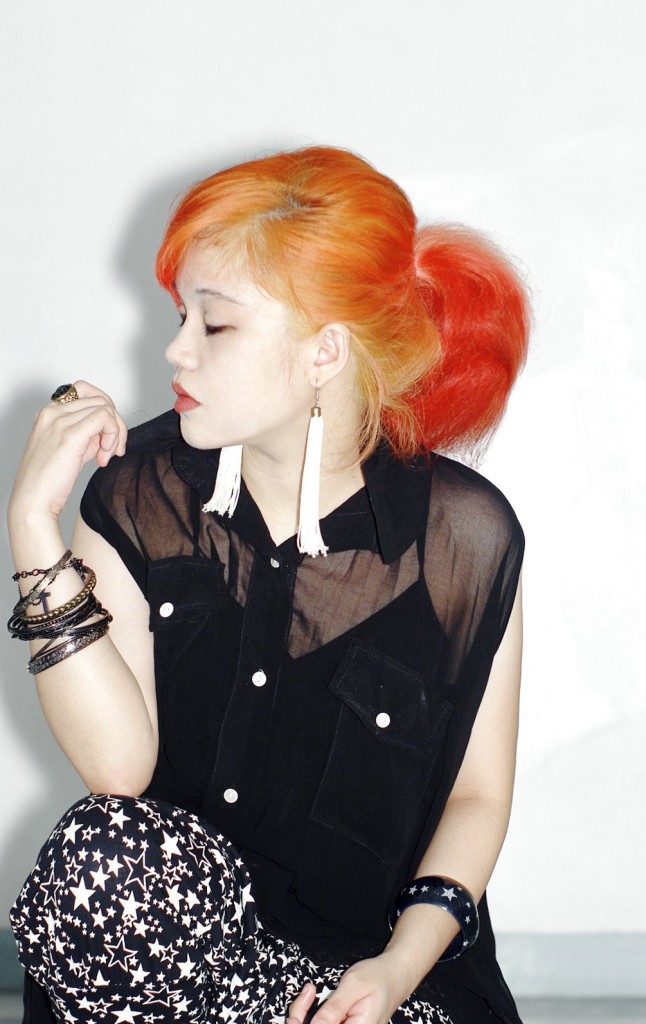 Jad Montenegro had it in her: a knack for music.
"I was in a whole bunch of bands and went to gigs whenever I could,"  she said, flipping her red colored hair, which appears to be her source of youth.
She's now 27, but her passion for sounds, words, and tunes make her seem like she never grows old—as if she's always been that geology student in UP Diliman who jumped from one band to another doing the things that she loved.
"I was rhythm for a pop punk band called Apollo Creed for a while. Then I was lead guitar for a band called Glory Days of Summer," she narrated. She went on mentioning her stints in an all girl band and in a goth band. When she found herself working in Cebu City, she played solo at bars every weekend.
And when she finally came home to Davao she started her own self-titled band and humbly took off sky high, leading the independent music scene in the city.
Her continued love for music led her band to finish recording her original songs and independently released it in an extended play (EP) titled Fixed Points and Pendulums. Here, Latitudes talks to Jad about inspiration, her music, and the craziest thing about being an independent music artist.
What inspires you and your music?
Anything and everything! But my songs are more based on emotion; you could say they were always born from experience rather than fabricated for a specific purpose. I feel that the more honest music is, the stronger it becomes over time.
My music is currently inspired by my favorite indie folk/acoustic artists. I do listen to a lot of genres, but my current favorites are Lucy Rose, Ellie Goulding, Jose Gonzales, Ben Howard, and a whole bunch of similar artists. I'm also into a lot of electronica and experimental music.
What sort of music can we expect from your EP?
Songs from my EP can be roughly categorized as indie folk or pop-rock. But I don't really label my music–it's a result of collaboration and a lot of spontaneity; hard to put a name on what comes after!
Listen to her wonderful song Ano here:
Tell us a little something about the songs in your EP. What stories do they tell?
It's a collection of 6 songs based on experience. Some touch on loss, friendship, humor, forgiveness, relationships–all very relatable subjects. I find the fact that my songs are relatable a good thing–it means everyone is complex and imperfect.
Why did you name your EP, Fixed Points and Pendulums?
The name is reflective of people, who can be either. I believe that this album says things about my personality that words seldom do: it's about knowing where you came from, where you're going, and what you have done, with absolute certainty. And it's about being okay with all of that, whether it's been good or bad.
What's the craziest thing about being a music artist?
The craziest thing about being a music artist is that you spend a lot of money to make none! You can ask any independent musician–it takes a lot of time, effort, and money to be a musician, but not enough support is given to our local artists. It is a huge pool of talent that shouldn't go unnoticed or unappreciated!
What makes you keep on doing what you do?
The sheer love for what it is. Music is music, no matter how you got there. When you're listening to it, there it is, a truly pure and beautiful thing, set apart from political connotation, social commentary, or intellectual manipulation, although it can and has been used for those things.
(To find out how buy her EP and to listen to Jad sing, visit Jad Montenegro's website and Facebook page.