by Craig Thomas
Quach Bac is a talented young visual artist who brings a critical eye and a perspective and maturity to his work that belies his relative youth (b. 1988). In preparation for his upcoming solo exhibition, we posed some questions below to Bac about the Familiar Sky collection, his motivations, and his creative influences.
Where does the inspiration for your work come from?
 "History, the past, human destiny, love, mercy, all these things. These eternal issues are a source of endless inspiration for artists. At times, inspiration will come from an unexpected place like some simple otherwise insignificant occurrence in life. When they come I try to hold them and look at them from all sides and take the painted image beyond what I have actually seen."
What is the meaning behind the title of the collection "Bau Troi Danh Tieng" ("Familiar Sky" in English)?
"'Bầu trời danh tiếng' is the title for a collection of paintings in which I depict scenes of a familiar sky; the space above our heads when we look up. It is also a space in life that hints at the place where we are actually living. "Bầu trời danh tiếng" reflects my personal attitude and point of view about life and the society in which I am living. People wear similar clothes, wait in lines, take photos, and do other things that are in effect just copying the same perspectives and ideologies of those around them. All are seduced by the same commonly held set of values such that individuality disappears in a way that is both strange and unreasonable.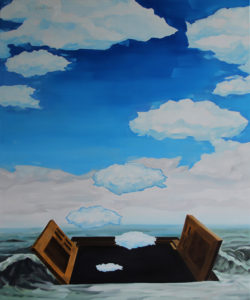 "The paintings are also meant as a warning about the corrosive effects of contemporary urban life. We have too many forces pressing us to become more and more conventional and anonymous; to use the same kind of vehicle, eat the same fast food, wear ready made clothes. It also contains the story of a phenomenon where personal values disappear into community standards both strangely and unreasonably. Finally, the collection contains the story of a community which shares a world-view that is both naïve and vicious."
 Why have you chosen to be an artist?
"I am unsure that I have truly become an artist or not because I believe there are many jobs out there that are exponentially more important. I am constantly analyzing when someone becomes well-known whether that recognition is deserved. To me, I became anartist out of a counter-intuitive suspicion that I could not paint."
Can you tell me about your creative process?
"When an image comes up, I work with it for a long time in my head. This goes on until I feel that the image is ready to be spoken out. I then study further, select the appropriate type of media, explore for the best possible solution and then I make the work."
A number of your paintings seem to depict people in distress or alienated and alone? Can you talk about that and what you are trying to express?
"In life, humans go through many levels and types of emotions and the most intense of these feelings is loneliness. Contemporary urban life satisfies human desires more than any time in history. Yet at the same time it also smothers people's destinies pushing them into ever more isolated spaces and weakens their ability to adapt to the world around them."
A number of your paintings like Suffering Seas seem to be dealing with the issues of global warming and the degradation of the ecology of the planet? Why is that an important issue for your work?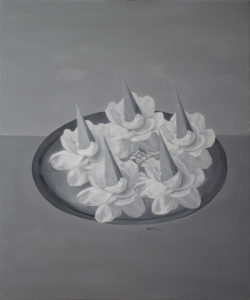 "I don't want to have any single focus or conclusion in my work so that viewers are not boxed in and can feel them in different ways. One person might see social and environmental problems being addressed in a work while another viewer might instead see love and sadness. I feel a piece of art must always end up with something, whatever that may be, that goes beyond the artist's initial intentions when starting the work. I always want my works to cause concerns and raise questions to the public. I aim towards several layers of meaning, therefore, I usually use paradox, conflicts, even something that is not conventional. That way, my works can contain many rather than a single reality."
I think "Famous Sky 1" may be my favorite piece from your new collection? It seems to have a touch of Salvador Dali in it. Can you tell me about the meaning behind the piece?
"Speaking about influence, my paintings reveal mystery and lights like the spirit in Magritte's paintings; a surrealist artist whom I admire very much."
Can you talk about how all the paintings fit together as a whole and how long you have been working on this collection?
"It's a series of paintings that were made from 2013-16. It opens up the biography of a young, single man. It's full of personal images but also depicts experiences of politics and society. Reasonable things, unreasonable things; the outer world surrounding the individual and also the interior life. Viewers can see thousands of personal stories of an individual. And somewhere within is the reality of what they are witnessing; both artifice and truth."
Quach Bac lives and works in Hanoi. This is his first solo exhibition with Craig Thomas Gallery.
Ho Chi Minh City, Vietnam – Craig Thomas Gallery is pleased to announce Familiar Sky, a solo exhibition of oil paintings by Hanoi-based artist Quach Bac. The opening reception for Famous Sky will be at CTG's Tran Nhat Duat gallery on 11 November 2016 from 6-9pm.