By: Yvette Benningshof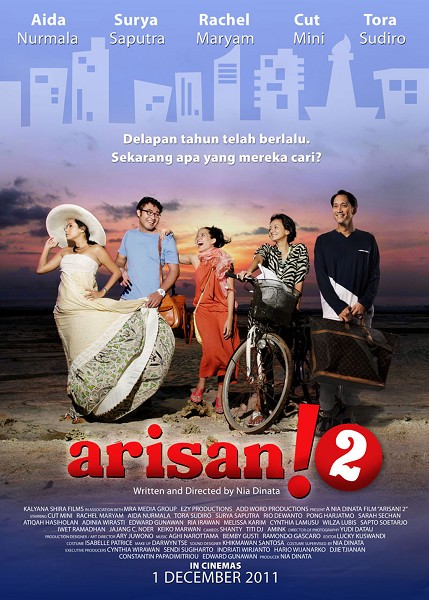 Flashy Jakarta big city life, the pristine beaches of the Gili's, socialites, parties, fashion, friendship and romance: you'll find plenty in 'Arisan!2'. But there is more to this film than meets the eye. In this Indonesian style 'Sex and the City,' controversial topics are tackled with humor and satire in a playful setting. The long awaited sequel of Arisan! (2003) that featured the first homosexual kiss ever in Indonesian Cinema, cheerfully carries on where the first installment left off.
Nia Dinata Wins

Award winning Indonesian filmmaker, director and producer Nia Dinata received the CinemAsia 2012 Achievement Award at the CinemAsia Filmfestival in Amsterdam. She was praised 'because through her films as a director and producer she has brought the topic of women, gays and marginalized people to the forefront in Indonesia'.
'We have a special history with Dinata', says festival director Doris Yeung, 'At our first edition in 2004 we world premiered Arisan! and now eight years later we come full circle with the screening of Arisan!2 and carrying out the Achievement Award.'
Arisan!2 was already released in Indonesia in December last year. The movie is about a group of friends in Jakarta who are very busy with their glamorous city lifestyle until one of them, Meimei, decides to live on the tropical Gili islands. She tries to keep her reason to escape a secret, but her friends decide to visit her and finally find out what's really going on. In addition they realize that life is not about fashion, botox and parties, but about being healthy and happy.
Nia Dinata and actress Cut Mini (who plays Meimei) were in Amsterdam to receive the award. 'I grew up in an eccentric family in Jakarta where two of my uncles were gay', says Dinata. 'Later in my high school years, when I was around 15 years old I noticed that students were bullying a guy with feminine features. I didn't understand why they did that. He was my friend! Even in America where I went for studies they would do that.'
Nia Dinata's Secret to Succes: Wrap it up with Humor
Dinata is not afraid to choose topics like homosexuality and polygamy for her movies. Her secret: humor. Bring the message in an entertaining playful setting without being a moralist. Her first film Ca-bau-kan (The Courtesan, 2002) was about Chinese Indonesians in pre-independence time. A year later she directed her breakthrough and internationally acclaimed movie Arisan! (The Gathering) that featured the first homosexual kiss in Indonesian cinema. In 2006 she made Berbagi Suami (Love for Share) about polygamy in Indonesia. She produced and directed numerous short films.
For the sequel of Arisan! she dug into her own life and friendships. 'When Arisan! was released people were always asking me, including Cut Mini, when I would make a sequel', says Dinata. 'But I never really felt the need to do that until some situations in my personal life changed. Besides that we are all eight years older and wiser and other things become more important. That inspired me to make Arisan!2.'
In Arisan!2 the lives of the characters have changed as well. Sakti and Nino broke up and found new boyfriends, Andien's husband died and she is a single mother now. Lita rejects the whole concept of marriage and raises her son by herself with a little help from her friends. Meimei divorced her husband and flees to the Gili's leaving the artificial Jakarta city lifestyle behind. She starts to follow a more spiritual path when she finds out she has a life threatening disease. Even though the topics are deadly serious, risky and controversial, the film is funny, touching and beautifully shot.
Nia Dinata: 'We are Moving Backwards'
Because of her groundbreaking films, Dinata has to deal with censorship by the government and protests by religious fundamentalist groups. Ironically there is a scene in Arisan!2 where Andien and Lita go to a gay film festival in Jakarta and have to make their way through a group of demonstrators. Dinata: 'In 2003 when I released the first Arisan! people tried to harass us at live TV and radio shows, now with Arisan2! they try to threaten us through internet.'
Although Dinata says that in Jakarta being gay is more accepted compared to the rest of Indonesia, times are changing. 'We are moving backwards. Conservatism is coming up again. Arisan!2 was first screened at the Q! Filmfestival in Jakarta, but last year there were demonstrations outside the building. Censorship is now becoming more the censorship of the people. The government let the people do whatever they like, maybe that is even part of their strategy. Instead of fixing the problem the government  influences certain communities to stop film festivals and boycott movies. It's very unstable now in Indonesia.'
Last chance to watch Arisan!2 in The Netherlands, as well as other Indonesian and Chinese films, during the CinemAsia Festival Filmtour.