By: Gen Caracena
On the south eastern corner of Mindanao lies the Davao Region of Southern Mindanao, which is designated as Region XI consisting of four provinces enclosing the Davao Gulf, namely Compostela Valley, Davao del Norte, Davao Oriental and Davao del Sur.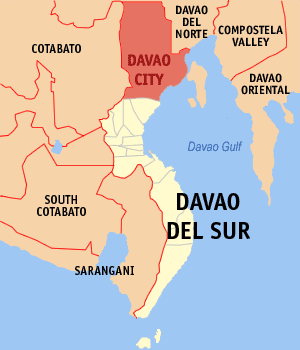 The regional center of the Davao Region is Davao City, which is part of Davao del Sur, but is governed independently from the province. It is the prime city of Mindanao with a land area of over 2,440 square kilometers, and with an estimated population of over 1.5 million as of 2011, making it the country's largest city outside Metro Manila.
Davao Economy& Culture

Davao City is the Philippine's fastest growing city. It is considered as the Philippine's "Asian City of the Future" and "Crown Jewel of Mindanao" being the chief economic center in Mindanao. It is Mindanao's main hub for finance, commerce, industry, tourism, transportation and education. The city's economy revolves around the sectors of agriculture, industry, commerce, and service.
The city was once perceived to have a very unstable political climate.  That was actually only during the Martial Law years. When the country's democracy was regained and with the changes in political climate, peace and order has been regained making Davao City a safe destination.
Davao City is perhaps the most cosmopolitan and colorful generous community in the Philippines. Its rich culture could be attributed to its being a migrant community and a melting pot of ethno-linguistic groups. A great number of city's residents were not born in Davao. Many from the young generations are borne of parents who come from other regions of the country.  
Also prominent in the city is the influence of other Asian cultures. Davao City residents are referred to as Davaoeños, which are a mixture of Filipino, Chinese, Spanish, Japanese, Korean and even Arabic who have settled in the city many years ago. The Davaoeños that comprise the Filipino population are a mixture of Visayans, Muslims and indigenous tribal groups called the Lumad.
The majority are Roman Catholics, followed by other Christian or Protestant groups under different denominations like evangelicals, born again, Kingdom of Jesus Christ, Iglesia ni Cristo (Church of Christ), Seventh Day Adventists, Jehovah's witnesses, etc. Minority groups are non-Christian religions like Islam and Buddhism.
The city's widely spoken language is the Davaoeño, a kind of Cebuano or Visayan dialect. Tagalog or Filipino language comes next. In the present educational curriculum, the language used is a combination of Visayan, Tagalog and English. In the business community, and for all official documents,  English has been widely used.
Davao's Natural Resources
The abundant natural resources,  forests, lush vegetations,  tropical getaways, and exotic foods, coupled with a combination of metropolitan and country living make the city more colorful and interesting to visit both for business and leisure.
Other nature's endowment to Davao is the palatable drinking water, fair climate all year round and its location that is outside the typhoon belt. The fertile soils and regular and even rainfall distribution all year round enhance the growth of various farm and agricultural products.  The lush forests of the hinterlands, however have been denuded causing flood that destroys farm crops and community properties. But normally Davao City has been enjoying the gift of fair climate and bountiful harvest all year round.
Davao is characterized by mountainous terrains. Within the boundaries of the city stands the fascinating topographical feature, which is the dormant Mount Apo, the country's tallest mountain endowed with rich bio-diversity. The mountain is the remaining territory of the world's largest bird, the endangered Philippine eagle.
Cost of Living

Davao  having a low cost of living, which is far less compared to other Philippine major cities especially in terms of housing facilities, services and other basic commodities especially food. To serve as your home away from home, the city has many customer-friendly hotels and inns that offer classy accommodations with rates that suit one's budget.
Cuisine
Most favorite among others, are grilled meat or fish and other seafood dishes. Davao City is called the "Philippine's Sashimi Capital" because of the delicious and much loved local "kinilaw" similar to sashimi. "Kinilaw" is made from tuna, mackerel, or swordfish with raw vegetables like cucumber, radish and chili and mixed with salt and vinegar.
For snacks and desserts, fruits and fruit dishes are common, most of them use durian, banana and mango. Some delicious durian and mango flavored snacks, and desserts are ice cream, pie, and fruit shakes.
There is a particular spot in the city, the F. Torres Street where you can find rows of restaurants that serve international, specialty and regional cuisine. This is why the street is called the "Davao's Food Street".
Must-Visit Davao Places and Landmarks


The city has several tourist attractions, here are some that are worth your visit:
1. Philippine Eagle Nature Center –    Amidst a tropical rainforest at the slopes of Mount Apo, is a sanctuary of endangered Philippine eagles, other bird species, reptiles and mammals.  This is dedicated to conserving and breeding of these endangered species before they are released to the wild.
2. The Davao Museum – This is a gallery of tribal art and other materials showcasing Mindanao culture like tribal costumes, jewelries, and handicrafts. Serving as a platform to bring better historical and cultural awareness, the museum is located at the very heart of the city along A. Pichon Street across the Legislative Building. Admission is free.     
3. Malagos Garden Resort –  This is a 12-hectare nature resort, which is home to the Philippine orchids especially the rarest Vanda Sanderiana or Waling-waling, indigenous birds and other wildlife species. Great features are Landscaped Gardens, Bird Park, Butterfly Sanctuary, Swimming Pool, Children's Playground, adventure activities and other recreational amenities.
4. Eden Nature Park and Resort – This is a mountain resort 3,000 feet above sea level ideal for outdoor adventure, spiritual retreat and cultural excursion.  What to see at Eden are the refreshingly beautiful acres of pine trees, orchards, vast gardens of herbs and organic vegetables, animal sanctuaries, and more. Facilities include camp sites, swimming pool, fishing village and zip line.
5. Riverfront Corporate City – A tourism center featuring the Davao Crocodile Park where crocodiles and other exotic animal species are conserved and bred. Other features include the butterfly house, zip line, wild water rafting, and other recreational amenities.
7. Aldevinco Shopping Center – Conveniently located at the city center, it is a one-stop shop of Mindanao's finest products like Indonesian batik garments, Muslim and Lumad brass products, accessories and other souvenir or gift items. Near the center are sidewalk stalls of exotic fruits such as marang, grapefruit, mangosteen, and the odorous but delicious durian, the "King of Tropical Fruits."
8. Peoples Park – A 4-hectare cultural theme park featuring a mini-forest planted to tropical rainforest trees, shady and open plaza, interactive fountains, waterfalls and ponds, children's toy land and large sculptures of indigenous groups in Southern Mindanao and the Philippine eagle, and a durian dome and jogging track. Also conveniently located at the heart of the city, the park is a favorite stop-over of locals, visitors, and foreign tourists.
9. Pasalubong Center – This promotes and sells to visitors, as souvenir and gift items, the Davao-made quality products such as handicrafts, processed foods, fashion accessories, home decors, indigenous costumes and native accessories.
10. The Leonor Hotel Inland Resort and Adventure Park – This is a picturesque of a 26-hectare inland resort and adventure park sprawling on a mountainous terrain. This is the biggest and one of the newest adventure parks in Davao City with features like landscaped gardens, surf rider, mini zoo, fishing area, zip line, hanging bridge, picnic area, cable car, and the very wide man-made wave pool and raging river, and other recreational facilities.
11. Samal Island – Across Davao City is the Island Garden City of Samal (IGACOS) known for its lush vegetation, cool water falls, long stretched coastal line with enchanting islets and fine white-sand beaches. The site is ideal for snorkeling and diving, and water sports.  It is only two kilometers from Davao City, which can be reached in about 10-15 minutes through a motor boat, ferry boat, or an inland bus.
Administratively, Samal Island does not belong to Davao City, but to Davao del Norte. But probably because of its close proximity and accessibility to the city, and the fact that is part of Metropolitan Davao, Samal Island has always been considered as the favorite destination for Davao City residents and visitors.
12. Monfort Bat Conservation Park, Babak, Samal Island –The world's renowned cave recognized by Guinness World Records in 2006 as having the world's largest colony of 1.8 million Geoffroy's Rousette fruit-eating bats that helps the durian fruit trees to bloom.  In 2011 their number had increased to 2.5 million. The 24-hectare bat sanctuary has underground cave vertical openings to allow visitors to view the thousand of bats.
Annual Festivals in Davao


Held every August, the colorful Kadayawan Festival showcases and celebrates the bountiful harvest of exotic fruits and the blooming of flowers especially the Waling-waling, the "Queen of the Orchids", and the rich culture of the indigenous communities in Davao.
It also showcases Davao City to the world as the most livable city in the Philippines having the warm, kind and friendly people who come in unity in the midst of diverse cultures, ethnicities and religion.
Another must-see festival is the Araw ng Dabaw (Davao Day) in celebration of the city's founding day every March 16th.
Shopping Malls


The city has several shopping malls.  Some of the supermalls are SM City Davao, Abreeza Mall, SM Lanang Premier, and Robinson Cybergate Davao. Home-grown and pioneer malls are Gaisano Mall of Davao, Gaisano South Citimall, NCCC Mall of Davao, Victoria Plaza, and Chimes Mall.
Getting to Davao City


International visitors can fly direct to Davao City via Cebu Pacific or Silkair from Singapore. If your main destination is Davao, coming in through Singapore could be the easiest way. But if you're entering the Philippines through the capital city of Manila or Cebu City, domestic airlines connect you from Manila and Cebu to Davao several times a day. You can also take direct flights from other Philippine cities.
Sea travel is also an option via super ferries that sail to 14 ports all over the Philippines including Bacolod, Butuan, Cagayan de Oro, Cebu, Cotabato, Davao, Dumaguete, General Santos, Iligan, Iloilo, Manila, Ozamis, Surigao and Zamboanga.
Getting Around The City


Jeepneys and tricycles are the most efficient and least expensive transportations. Jeepneys ply through the main streets strictly via their designated fixed routes marked on the sides and front of the vehicle. Tricycles ply the routes outside the city's main streets.
For a more convenient city tour, taxis have several routes in and outside Davao City. A first for the Philippines, there are taxis that are now accepting payments from BancNet, Megalink ATM, and debit cards.
There are also buses that connect Davao to other major cities and towns throughout Mindanao. Overland buses arrive at, and depart from, the main bus terminal which is about two kilometers from the city center.
Other Known Attributes


Ascribed to Davao City are various names and descriptions that make it known in world tourism – The Durian and Mangosteen Capital, The Fruit Basket, The Seat of Mount Apo, The Home of the Famous Waling-waling, The City of Blooms, The Home of the Endangered Philippine Eagle, The Most Livable City in the Country, etc.
As a long time resident of Davao, I have seen all its strides and downsides through the years. However you may describe or call Davao City, to me this is my home, and this is where my life is.
To get more info about the city of Davao visit the official Davao tourism website and watch the video below (warning, some insane music included)