By: Emma Kwee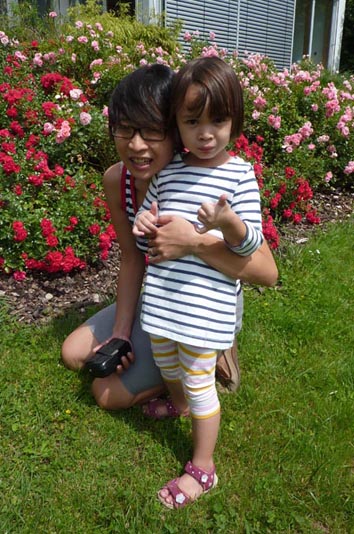 It's been a while, but finally, another couple stepped forward to share their story. We are still on the lookout for more mixed couples for this series. Are you in a mixed relationship and do you have a story to tell? Please contact info@latitudes.nu to be featured!
You can read back all the stories featured in this series so far here.
Sue and Karsten are from Malaysia and Germany respectively. They are 37 and 39 and live in Kuala Lumpur, Malaysia.
How did you meet and where?
Sue: 'We met in Kuala Lumpur as Karsten was working here. His British firm sent him here to work on a project. We were both taking French classes when we met.
How did your relationship evolve?
Sue: 'When I saw him, I noticed him. He sounded English, which I was familiar with, having studied in the UK. I was also impressed by his firm, which is very famous. From there, I found him to have a wonderful heart.'
Still, a mutual attraction doesn't automatically make for a smooth relationship. When asked what it means to their relationship to be of two different cultures, Sue shares:
It's not easy. My little personal revelation is that language and culture are the seat of our psyche and personality, that grounds us—something we take for granted in this day of global interaction.'
What are the biggest challenges you had to overcome?
Cultural differences in expected behavior, especially when interacting with my husband's family. Asian people always "give face". Germans don't.
When asked how her surroundings reacted to their relationship, Sue states that for the most part they had no problem with it. It's more and more common to see people of different backgrounds in a relationship.
However she also finds that: 'some more intellectual Asians look down on women who mate with Westerners, as it indicates that we don't think enough of our own culture and heritage and are not being part of the progress of our own history.'
So, then what makes you guys a perfect fit?
Sue: 'We're not a perfect fit but we've been together for more than 5 years, which is longer than most relationships I've been in.'
Sue is candid as well as realistic. She recognizes that communication is at the core of a good relationship. Cultural differences can influence the way we communicate things and it's always a challenge to continue to see 'where one is coming from.' Next time, we will talk to a Dutch lady who married a Balinese man. Falling in love with her husband eventually triggered her to adopt the Indonesian nationality. Next week we will hear more about that!
Latitudes: In the Mix

In this series we talked to people with a mixed Asian background. Have these
colorful roots entangled them? Confused them? In what way has their heritage
formed their identity, how do they look at the world & how does the world looks
at them? In the next weeks we will re-publish this series, because the
articles and interviews were very well read at Latitudes.nu. And because
it's so nice to see all these couples again.