By: Emma Kwee
Finally it's time for another tale of all surpassing love. In the last three episodes we have met Kim and Michele, a Canadian-Indonesian coalition, currently residing in Pontianak. Then we met Siti and Benny, a Dutch-Indonesian couple who settled in a small town in the Netherlands. Last time the story of Kindeng and Jan showed us hope despite hardship, when Kindeng lost her husband Jan due to a stroke.
This time we meet Shazanah Hassan (27), a born and bred Singaporean, and  Timothy Smith (28) from New Zealand. The young couple lives together in Dunedin New Zealand.
We asked them about how they met, how their relationship developed and cultural differences that surfaced over time.
How did you meet and where?
"We met online, and arranged to meet, in person, at No. 5 Emerald Hill, a bar in Singapore. The management decided we were a bit too scruffy and kicked us out. We ventured on to an art exhibition at Evil Empire in Little India, after which, we danced together to Belle and Sebastian. Shazanah decided that Timothy was not quite her cup of tea. Timothy decided Shazanah was the perfect cup of tea. We met again and danced to The Smiths, at which point, Shazanah decided that she had made a mistake with reference to her tea preferences. At last, we agreed that, as far as cups of tea go, we were each the other's."
After sharing some cups of tea, Shaz and Timothy found that they fell head over heels in love. Their relationship developed at lightning speeds and after just 4 months the couple proved inseparable:
Our relationship developed dangerously quickly, and it was something about which we were both concerned."
"Neither of us were entirely convinced that the overpowering feelings we were experiencing were a veridical reaction to the situation. After the fourth month of dating, though they were still very much enamoured with each other, Timothy had to return to New Zealand to finish his Bachelor's degree. Shazanah agreed to follow him there, some months afterward. But neither of them could bear to wait, and after only three weeks, they were reunited in Christchurch just a month before that city was destroyed by a major earthquake."
No nagging cultural differences then?
"In fact, culturally the two of us are fairly homogenous. Shazanah has only a smattering of Malay habits, and is otherwise a child of the internet. Timothy is a child of green paddocks and the sea, however, he also has a fair number Javanese habits, owing to the fact that he has lived in Indonesia several times before.
Examples of Javanese habits, according to Timothy, include taking too much coffee into his mouth and spitting half of it back into the cup, something he calls 'bedok bedok berambat', a practice that Shazanah is sure does not exist. He also sometimes wanders around the house wrapped in a piece of cloth and has a great affection for clove cigarettes. Timothy also has no idea how to properly use computers, which is probably their biggest cultural difference. However, he does speak better Bahasa Indonesia than Shazanah."
Has the move ever caused any problems or miscommunication?
"When Shazanah arrived in New Zealand, she was terrified and made frequent reference to the absurdity of living with people who 'orientate themselves by hills'. She was also horrified by the unreasonable data caps in New Zealand, as she was used to unlimited broadband. She gives Timothy incredulous looks upon instances of his constructing and lighting campfires, or catching fish from the nearby beaches. For Shazanah, who has lived her entire life in big cities, the shock of arriving in, what would appear to be, a village at the bottom of the earth has put some strain on their relationship. For Timothy, who copes equally well living in small towns or big cities, Shazanah's reaction creates much confusion."
This also proved the biggest challenge the couple had to overcome. Shazanah's acclimatization to living in a town rather than a city has seemingly pushed the relationship to the very edge. Another difficult aspect lies in the relationship of the couple with Shazana's parents.
How did your surroundings (families & friends) react to your mixed relationship?
"Shazanah's parents remain in the dark concerning the relationship. This is due to their being somewhat serious muslims. Timothy's family has been quite welcoming to Shazanah, as have most of his friends, bar one or two who seem convinced that Shazanah is a psychopath because she enjoys Japanese Gore films."
So what makes this couple work? Obviously their sense of humour must have something to do with it.
What makes you guys a perfect fit?
"We have similar senses of humour and political views, we find each other intellectually stimulating, and want to eat each other in a fit of passion. Also, due to our similarly small statures, we are both able to fit into one bathtub at the same time which takes all the boredom out of baths!"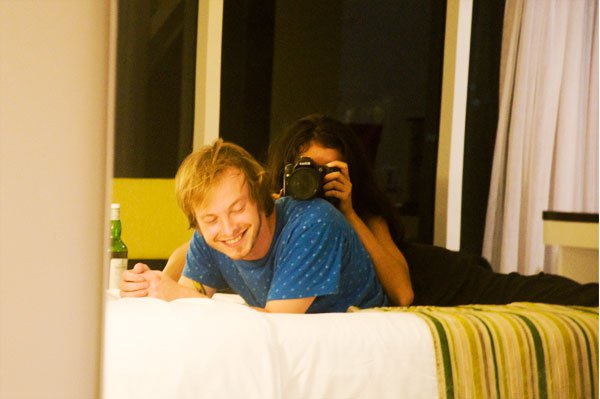 What are the best things that this relationship brings you?
"It allows Timothy to live out his fantasy of being Indonesian and lets Shazanah sneer at the ways of the internet deprived Neanderthals. Shazanah also gets to eat the delicious meals that Timothy cooks and Timothy gets to share in the tremendous amount of media that Shazanah has amassed over the years."
That sounds like a perfect basis for a long term relationship, enough dvd's to last a lifetime, and good authentic Indonesian food to go with it.
What are your future plans?
"We plan to live in Indonesia (preferably Bandung) for some stretch of time in the near future, before heading to either the UK or the US for further study."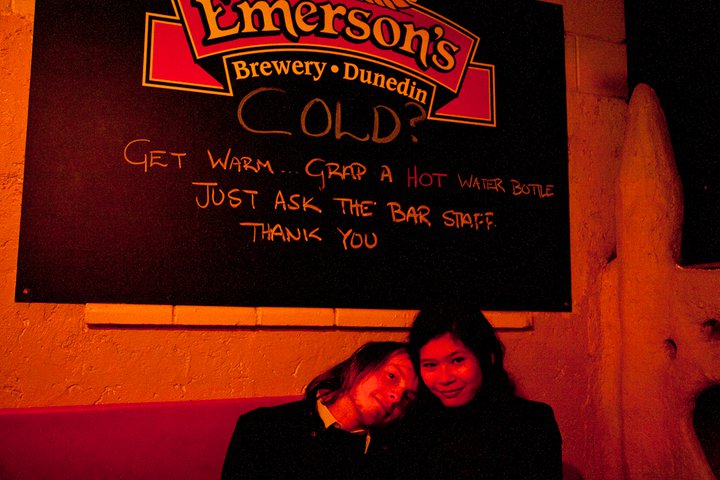 Do you have any words of advice for other people who might up in your situation?
"Try not to move to New Zealand, the internet here is awful and the town is the size of Geylang in Singapore."
Hmmm ok, we'll try to remember that…hope you won't be disappointed with the internet speed in Bandung. Are you a mixed couple and would you like to be featured on Latitudes? Do you have an extraordinary tale of love that surpasses cultural boundaries and geographical  borders? Drop us a note on info@latitudes.nu if you want to be featured in Latitudes Cross-Cultural Couples.
Latitudes: In the Mix

In this series we talked to people with a mixed Asian background. Have these
colorful roots entangled them? Confused them? In what way has their heritage
formed their identity, how do they look at the world & how does the world looks
at them? In the next weeks we will re-publish this series, because the
articles and interviews were very well read at Latitudes.nu. And because
it's so nice to see all these couples again.