Covid in Hindu Bali. The issue of social distancing
by Sita van Bemmelen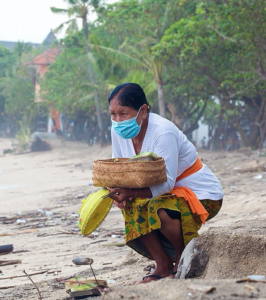 I am not going to tell you how badly the epidemic has hit Bali. That is self-evident, Bali being one of the world's famous tourist destinations. Nor about the in my view unfounded rumors that foreign tourists are the culprits of bringing the virus to the island. In fact domestic tourism has done so. I also do not dwell on the huge numbers of hotels, restaurants, spa's closed down and supplying chains affected leading to a loss of jobs and income of hundreds of thousands of employees. I like to tell you about how the Balinese face the challenges caused by Covid in the circle of my husband's family. Has the epidemic affected people in a typical Balinese way?
Yes, it has. The people in Bali are Hindu. The Balinese version of this religion requires the observance of numerous colorful ceremonies – big and small, public and private – for which the island is famous. No month goes by without its scheduled ceremonies. Negligence to perform and partake in these ceremonies is generally considered to bring bad luck. Therefore, many people tend to worship no matter what. The governor of Bali issued a decree early last year that no more than 25 people should attend a ceremony. Needless to say, that that number itself already poses a heightened risk for infection. Often it is ignored. An example: a few times crowds gathered for a favorite pastime of Balinese men, a cockfight. And behold, that caused more infections!
One of the recurrent ceremonies is the ritual for the house temple located in the compound of a family. It is customary that close relatives – brothers, their wives and their offspring – come to pray. With trepidation my husband and I – we are in our sixties – have taken part several times because it does not feel right not to do so. Unfortunately, my anxiety proved founded. We always wear a mask but about half of our relatives do not and social distancing is fully neglected. In the confined space of a house and yard it is impossible to observe anyway. One of our nieces even had the impertinence to say to me: "aunty, you do not need to wear a mask. We are all family, you know" (!). Our policy is not to stay for the often-tasty dinner served after prayer, because it means even those wearing a mask take them off.
When last year the time came to hold the ceremony for our own house temple, I had misgivings about doing it in the usual way, because my husband has serious heart and lung problems. When I told this to my husband, he reluctantly accepted my view and decided not to invite our relatives, who on average amount to about 30 to 40 people coming to our house. When I voiced my worry to my maid that I (the foreign wife) would probably be the one blamed by relatives for this unpopular decision, her response was univocal: "That is for certain, ibu!"
With the number of Covid cases climbing consistently, the issue of social distancing has started to be taken more seriously. When in September last year the ceremony of the extended family's temple in Klungkung, the board of the family's association made a momentous decision. This ceremony is usually attended by around 300 relatives sitting cross-legged and shoulder to shoulder in the temple's court yard. A lovely sight, so many of us praying at dusk together with only the sound of two priests' bells gently underscoring the silence of communal devotion. This time nothing of the kind. Each branch of the extended family was given an hour for placing their offerings at the shrines and prayer. Without the comforting presence of a priest.
Some footage of Bali nowadays:
Statistics of the COVID-19 pandemic in Indonesia: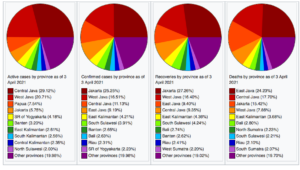 Dr. Sita van Bemmelen is a Dutch anthroplogist living in Bali. She often writes for Latitudes and Archipel (now Azië Magazine).
Images: Donald Man, Flickr