By: Celine Marbeck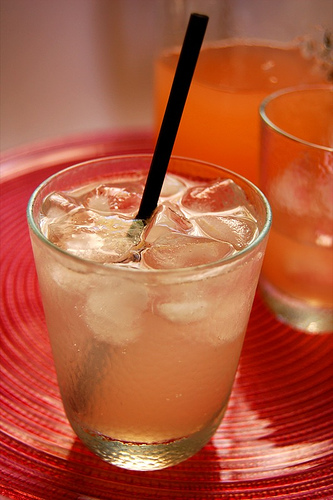 This cool thirst quencher is called "Lemongrass Cordial." Traditionally in Asia, lemongrass is used to treat colds and coughs. It's considered to be a diuretic, stimulant and tonic as it encourages digestion. Ginger works as an anti-oxidant, improves digestion and blood circulation. Besides these medicinal qualities, the fragrance and aromatic taste of lemongrass and ginger go well with savory dishes as well as refreshing drinks.
You can drink this as a healthy thirst quencher, or mix in some vodka for a swanky (and relatively guilt-free) cocktail!
Lemongrass Cordial Recipe:
Ingredients:
6 stalks fresh lemongrass (sereh)
6 cm wide fresh ginger,peeled & crushed lightly
300 grams rock sugar (available in Chinese Toko) or if unavailable use brown sugar
1 liter of water
How to make Lemongrass Cordial:
1.Rinse the lemongrass and remove any dried stalks. Use the ones with big white bulbs instead. Crush the lemongrass lightly, and tie it into a knot.
2.Peel the ginger and crush it lightly. Put the whole crushed piece of ginger into a pot.
3. Add in the rock sugar and water. Toss in the lemongrass, bring to a boil.
4.When the rock sugar has dissolved completely, give a good stir (the liquid will have a golden hue).
5. A lemongrass+ginger fragrance will be given off. Let cool in the pot before pouring into a clean jug or bottle.
6. To serve put 3 tablespoons of the lemongrass cordial into a tall glass. Fill the glass with ice cold water and stir it. Serve immediately with a stalk of lemongrass to use as a stirrer.
NB: For a stronger ginger flavor drop into the serving glass 2-3 crystallized ginger. Serve at once. Simply delicious!