2012 9th November – 9th December
Artistic director : Lee Swee Keong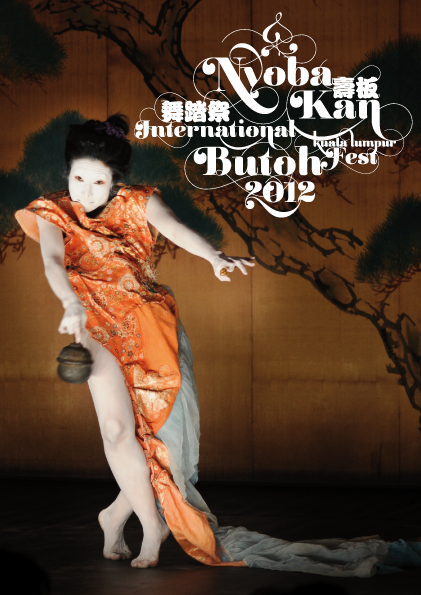 Art aficionados, take heart! Here's something that will entice your senses. Nyoba Kan International Butoh Festival is probably one of the most prominent art festivals in the country by the only Butoh dance company in Malaysia, Nyoba Kan. Offering a unique performing arts form that originated from Japan after World War II, and subsequently adopted around the world.
The 5th Nyoba Kan International Butoh Festival 2012 is taking place from 9th November to 9th December. Bringing to you a diverse range of activities from performances, lectures, workshops to exhibitions.
Participating in this celebration are artists from Japan, Nigeria, Indonesia and Malaysia.
The event details are as below:
Catan Kulit — Photography Exhibition
By No. 2 (Nigo Chong, Felix Wong & Dolce Kim)
1

KL

9. 11月 (fri) –

18. 11月(sun)




>

Level UG, Publika Boulevard @ Publika, Solaris Dutamas

(entrance of Ben's supermarket)




11:00am-9:00pm




2

Penang

22. 11月 (thu) – 9. 12月(sun)

>

a2 gallery, 27 Bangkok Lane, Penang

tel: 04-227 4985

11:00am-6:00pm



Dance Drama – Catan Kulit
Nyoba Kan collaboration with Agung Gunawan (Indonesia)
Choreographers. Lee Swee Keong & Agung Gunawan (Indonesia)
Performers.  Kiea Kuan Nam , Jess Liew & Agung Gunawan
1

KL – Outdoor Performance

10. 11月(sat)




>

Outdoor stage @ Publika Square ,  Solaris Dutamas




8:00pm

Free admission




2

Penang – Full Length Performance

23 & 24. 11月(fri & sat)







>

Stage 2, penangpac, Straits Quay, Tanjung Tokong, Penang




8:30pm

RM38 (adult)

RM28 (student)




3

Penang Pre-Show Photo Session

22. 11月(thu)




>

Stage 2, penangpac, Straits Quay, Tanjung Tokong, Penang




8:30pm

only for show ticket holders-registration with penangpac

4

Johor Life Sculpture & Parade @ Karniaval Seni Kreatif Kita




1 & 2. 12月

(sat & sun)




>

Bukit Layang-layang, Pasir Gudang, Johor

afternoon

Free admission






International Gala

Butoh & Dance

Dance Artists from Japan, Nigeria & Malaysia, they are:

7 & 8. 12月

(fri & sat)




>

The Actors Studio (TAS) @ Lot 10, KL

8:30pm

RM48 (adult)/

RM28 (student)



Ima Tenko (Japan)
Qudus Onikeku (Nigeria, France)
Special appearance, Ming Low (Malaysia
Fringe
A Talk by Ima Tenko (Japan) –
LENGEND OF WHITE TIGER AND MARTEN
(Japanese with English translation)

9. 12月(sun)




>

The Actors Studio (TAS) @ Lot 10, KL

3:00pm

Free admission
Workshops
1

KL By Nyoba Kan (Malaysia)

17. 11 月(sat)




>

Citta Yoga@ 1-1,

Bandar Mahkota Cheras, Jln Temenggung 5/9, Selangor

10:00am-1:00pm

RM60

2

Penang By Nyoba Kan (Malaysia)

24. 11 月(sat)




>

studio penangpac, Straits Quay, Tanjung Tokong, Penang




3:00pm-5:00pm

RM50

3

Penang By Agung Gunawan (Indonesia)

25. 11 月(sun)




>

studio penangpac, Straits Quay, Tanjung Tokong, Penang




10.00am-12:00pm

RM50

4

KL By Ima Tenko (Japan)

9. 12月(sun)




>

The Actors Studio (TAS) @ Lot 10, KL

10.00am-1:00pm

RM60
Enquiries:
Contact: 010 3061  100 (Jess)  / 012 6560 812 (Kuan Nam)
email: info@nyobakan.com.my
FB: http://www.facebook.com/#!/2012nyobakan.butohfest
Artistic Director: Lee Swee Keong
www.nyobakan.com.my