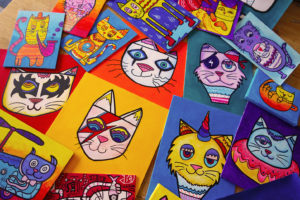 I am May and I am an upcoming artist (I am also a fulltime freelance designer/illustrator by day). I would like to invite you to come and feature me at my very 1st solo art show at Minut Init in Damansara Uptown, 26th May, Friday, 9pm onwards.There will be live performances by a few of my musician friends , and possible one or two indie bands.
I am a designer by day, an illustrator/artist when the sun goes down or whenever inspiration hits me in the face. Empty spaces are my canvases, plain objects are irresistible temptations.I draw on anything doodle-able,hence a doodle addict so to speak.Over the years I have collaborated with NIKE, ELLE, MARIE CLAIRE and Axiata, just to name a few. In recent years I have collaborated with PESTLE & MORTAR for URBANSCAPE 2013 and just last year I've collaborated with FREEFORM's for URBANSCAPES 2016 GRABCAR taxi wrap.
My show is called CATS CATS CATS. Lots of puns or pop culture references looks either pretty cool or funny as hell when it's a cat, it may be really dry humour at times, or just plain sarcasm at its best, being a cat and all.This does not mean that I am a cat person, though sometimes I do prefer cat,sometimes.
These artworks have loads of cat puns,rocker cat icons, foodie cats and random things which cats do or don't do. And at one point (still am) I can't seem to stop drawing cats.Hence, the title.