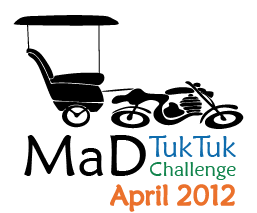 GET READY to kick off a Cambodian adventure with the 2012 MaD Tuk Tuk Challenge, charity rally. A TURBO adrenalin rush! How about a gruelling challenge set to keep your blood pumping for a whole 11 days and more than 1,750kms!!!
The THIRD YEAR of the MaD Tuk Tuk Challenge, a tuk tuk rally with a difference, is set to commence on the Easter Weekend holidays on 6th APRIL 2012. A guaranteed adrenalin rush on 3wheels – with a bonus, for those forever searching for that perfect hit!
Teams are allowed to pimp up their Tuk Tuks to the max [OPTIONAL] then take to the tracks of Cambodia, crossing some of the most unexplored and extreme areas of South East Asia all in name of charity. The route will take the entourage through remote villages where they will set up camp. Each team is also fundraising for their Tuk Tuk Team through sponsorship and donations to reach a combined target total of US20K in partnership with MaD Cambodia.
Primary focus of the event is to raise enough funds to continue the charity MaD's work in Cambodia and to build & manage their new projects in the coming 2011/2012 dry season. 100% of funds donated and raised go to MaD Cambodia's Projects… Not 10%!
Teams from around the globe will be converging on Siem Reap to take part in this unique charity rally. HURRY we only have 4 team places left!
For those not wired for the adrenalin others are choosing to participate in their own way. Fundraisers around the world are currently underway. Companies large and small we hope will be sponsoring the event and a number of volunteers have come forward to offer a helping hand where they can. It really is a global effort!
While many of us sit safely at home meaning to take part in something as positive as this, here lies a one-off opportunity to do something good, challenge yourself, explore beautiful Cambodia, with our tuk tuk adventure and change a few lives whilst having a whole lot of fun doing it.
Go to the Mad Tuk Tuk website for more info and register…if you dare!