By: Mariecke van Vugt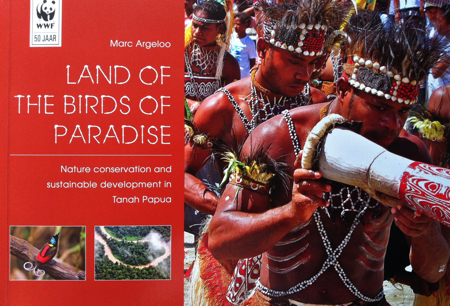 The internet and industrial revolution have changed the world and the lives of the people living in it. Fortunately for us, some places in the world are still untouched and offer us an environment full of surprises. Tanah Papua, the easternmost region of Indonesia, is one of those places. It has the same size as Ireland and Germany combined, but counts only 3,6 million inhabitants. Tanah Papua is known for the rich biodiversity. From evergreen forests to winding rivers, and from valleys with eternal snow to savanna plains. This biodiversity is showcased in the beautiful book "Land of the birds of paradise".
The first part of the book describes the history of Tanah Papua. It covers the cultural, political, geological and natural aspects. The chapters that follow take the reader on a adventurous journey through Tanah Papua. You get to read and learn about the different species of animals, flowers and some stories of explorers who discovered the region. The biggest and, in my opinion, most important part of the book contains the story of the conservation of Tanah Papua and the work that the WWF Indonesia has done here.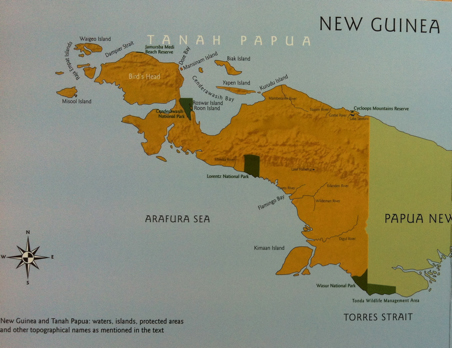 Over the years more and more nature has been destroyed and animals are faced with threats like habitat loss, poaching and the overuse of natural resources. The WWF in Indonesia tries to prevent this from happening in Tanah Papua by conserving the nature and teaching the inhabitants how they can benefit without disturbing the environment. The book describes the choices that the organization has made and how cooperations were established, but also paints the picture of the dilemma's they faced and how they coped with these problems.
Besides the impressive chapters, the book offers a variety of beautiful pictures and maps. It makes the book not only interesting but also a pleasure to read. You get a closer look in what it takes to prevent rapid changes in modern lifestyles to influence the region. The book also gives an insight in the part the WWF plays en how they cope with the ups and downs during their work. Nature lovers eat your heart out!
Marc Argeloo
Land of the Birds of Paradise: Nature conservation and sustainable development in Tanah Papua
WWF Indonesia, Jakarta & WWF Netherlands, Zeist
ISBN: 978 90 75717 52 5