CITIBANK:
50 Years of Dedication
for Indonesia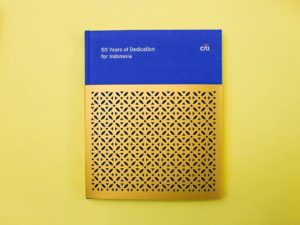 This is a limited-edition book of a story that began 50 years ago, when Citi first put down roots in Indonesia. With a mission to enable growth and economic progress, Citibank Indonesia has been dedicated to delivering the best and upholding the highest standards of integrity and professionalism. At Citi, the world's global bank, this is what we do to serve our clients and make an impact on society.
Today, the roots go deeper and the branches reach higher. As the future beckons, Citibank Indonesia will be there to see the country's full potential blossom.
Writer: Jeremy Allan
Contributing writers: Byron Black, John Moyle, Jessie Morgan
Editors: Elvera N. Makki, Andhikaputri Himawan, Tito Pasaribu, Ananta Wisesa, Hayat Indriyatno, Jafriyal