By: Chandra Drews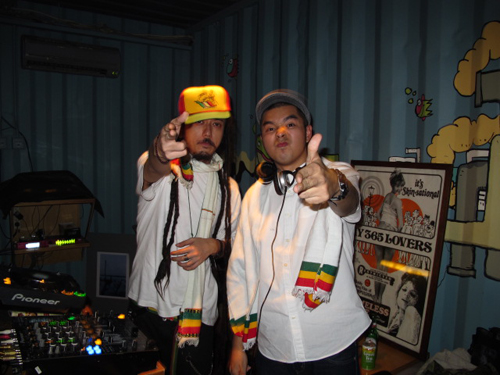 Think about reggae and Indonesia and the image to most likely pop into your head would be the rows and rows of Bob Marley posters and paraphernalia sold across the streets of Java or perhaps the many UB40 tribute bands playing in many of the nation's bars and cafes. And what about all the other rich traditions of Jamaican music I hear you ask? That's where Ras Muhamad and Lion Rock of Asia-Afrika Soundsystem come into the picture.
Lion Rock & Ras Muhamad have an agenda: a noble agenda of spreading the vast wealth of Jamaican music (that runs so much deeper than Bob Marley and UB-40) amongst the Indonesian population. But how did the South Jakartan Lion Rock and the Queens raised Ras Muhamad first get together? How did they fall in love with Jamaican music in the first place? What's the story and goals behind Asia Afrika Soundsystem? Latitudes got in touch with the two reggae heads to ask these very same questions. Their replies paint a vivid picture with a patois twang.
TUFFDUB – TUFFSTUFF GANG x Asia Afrika Soundsystem by tuffstuffgang
First of all, tell us a bit about yourselves.
LR: My name is King Lion Rock the original top ranking selecta outta Indonesia, boom!
RM: I am Ras Muhamad, a reggae musician from Indonesia that has released 3 full-length studio albums. I independently produce, distribute & promote reggae music.
Other than that I'm involved in broadcast, doing a weekly 2-hour reggae show called "Jamaicansound" on an FM radio station, one of Jakarta's leading radio stations for the younger generation. Being an announcer, host and producer of "Jamaicansound" gives me the experience and opportunity to teach about reggae culture, history and so on.
I also work as an active deejay (toaster/emcee) as the half of Asia-Afrika Soundsystem, our mission is to show that before other sounds came along such as hip-hop, jungle, drum n bass, house & electro, Jamaican music did it first. The soundsystem cuture, deejay & selector all started in Jamaica as the foundation.
How did first find your love for reggae?
LR: The first time I fell in love with reggae was in high school, I was a hardcore hip hop head back in the day and I dug lots of hip hop records, especially from the New York scene like Wu Tang, Nas, Mobb Deep, Onyx, Company Flow, A Tribe Called Quest, etc. Then as the time passed by, like everybody eIse I first started listening to reggae when I got exposed to Bob Marley (the first tune I heard was Buffalo Soldier if I'm not mistaken): I could relate to the heavy drums and deep bass lines of the sound. Even though Bob Marley was the first record that I heard, it was Culture (RIP Joseph Hill) that made me fall in love with reggae music (with tracks like 2 Seven Clash, Jah See Dem Come, Legalization, Humble African and many others). Their righteous lyrics and uplifting riddim (the Jamaican term for beat/rhythm) drew me deeper into reggae music, since then I started to find out more about reggae and rastafarian culture.
RM: My first exposure of reggae music was definitely in New York. My cousin listened to dancehall music and I was familiar with Rap, so in my ears dancehall was akin to rap at first listen even though I couldn't really catch what the artist was singing about in dancehall tunes due to the Patois accent. I asked my cousin what music was it that we were listening to. And he said "it's reggae", so my first thought that comes to mind then about reggae was dancehall music.
I remember one of the first tunes that I listened to was Buju's "Champion" and Nadine & Terror's "Action", this was circa '93-'94 when Eastcoast hip-hop was rising in New York with Wu-Tang, Nas, Fugees, Gangstarr and Mobb Deep as the hottest thing on radio. I remember listening to Hot 97 after school and just be engulfed in that boom-bap vibe, very thankful of it because I felt the essence of what hip-hop culture was all about. So when Hot 97 wanted to flip a bit of their menu, dancehall music flowed through their playlist. So basically the majority of kids my age at that time listened to what was relevant in hip-hop and had some knowledge of what was happening in the dancehall culture.
Dancehall was more to the riddim and the culture, my own consciousness didn't start to become active until about 3-4 years later when I was exposed to Bob Marley's music. It was actually in school, where we had a class that studied "the impact of music in social-political context" that I learned of Bob Marley. It was "Redemption Song" that we had to study and analyze as students. I didn't like it as first since the Bob Marley tune was in acoustic format and wasn't the authentic Caribbean riddim. But during this time, The Fugees released their 2nd LP "The Score" and they remixed No Woman, No Cry with Stephen Marley on board and I instantly liked the tune. I found out through my mother that it is a Bob Marley cover tune that I was listening to. And not by coincidence during that time she also made a business trip to Jamaica, so she brought back few things for me. One of the things were the Bob Marley greatest hits album "Legend" and I was completely in love with the message and vibes.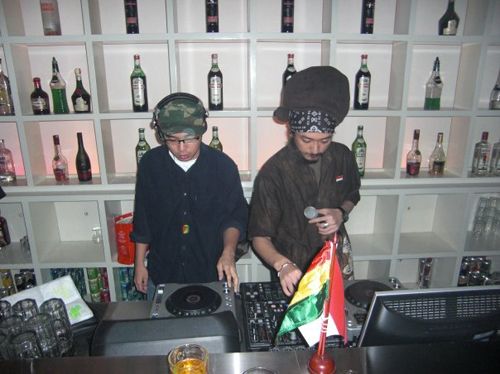 How did you guys first start as a reggae performers? What were your motivations?
LR: Well before I was a DJ, I just loved to dig music like hip hop which is my foundation, funk, jazz, and of course reggae. Then a friend of mine asked me to play at his party (back then I was playing funk and hip hop just for fun). I played a lot at friend's parties or some small gigs. At first I did not have any intention to play reggae music, then in mid 2008 my fellow soundsystem member Ras Muhamad just came back from his European trip and he got this idea about assembling a reggae soundsystem so he asked me to form a selecta – deejay group so then the Asia-Afrika Soundsystem was born.
RM: I first got involved as a toaster during my college days. I had experience as a lead singer for a rock/hip-hop band during high school and as a hip-hop emcee in my first semester as a college student. Becoming involved in reggae was pretty much a natural process, after listening to Bob Marley's legend. A friend let me listen to the "Natty Dread" album and I was completely hypnotized, as you can say the tune that opened me up culturally was "Them Belly Full". I realized at that moment Bob Marley's music wasn't just limited to his greatest hits album. So at that time I became more and more interested in Bob Marley's message and the Rastafari culture.
It was the end of the millennium that I started growing my locks and slowly meditating on what Rastafari culture is all about. So when I entered my college days, my campus had a lot Caribbean and African peoples attending it. They were the ones that exposed me to soundsystem culture and brought me deeper into the reggae and Rasta culture. Since my campus was so close to Brooklyn, I spent most of time after classes there or uptown in Harlem instead of where I lived, Queens.
It was there in Flatbush, Brooklyn that I had the courage to toast and learned the skills of being a toaster. It was during this time also that Sizzla, Luciano and other Bobo artist influenced my expression and way of thinking. My friends were the one to push me to write some Reggae chunes and I eventually did. I put out a self-produced half-demo/half-studio album entitled "Declaration of Truths" in 2005 in New York. It was this time also I heavily started to study the history and the culture of Jamaican music, from its deejays, top-artists and legends beside Bob Marley, soundsystems and so on.
And you obviously carried this on in Indonesia, Ras?
RM: When I reached Indonesia in 2005, our country was in a set-back of what Selector Lionrock and I called "Bob Marley-isms". Where so many so-called reggae fans and listeners in Indonesia had the listening references limited to obviously Bob Marley, UB40, Big Mountain and Inner Circle. In whom I categorize as "Top 40 90's Reggae" or some obscure illusive "beach boy reggae" image. It a came as a bit of shock during this time for me, it was 2005 and Damian Marley's "Jamrock" was burning up the charts & the streets when I was about to leave Babylon, NYC.
So, I had to somewhat compromise my artistic expression. Even though I am a cultural one-drop artist, I had to expose myself as a dancehall artist in Indonesia at first since a lot of people were vague about dancehall in Indonesia. I had to show people, how I exposed myself through natural process how dancehall has touched me in my first style and contact of reggae.
Not to boast but no one did proper toasting over riddims in Indonesia, so I had to do that. I toasted over riddims that was dancehall oriented, I used heavy patois mixed with Indonesian lyrics. I risked myself being categorized as a "rapper" from the hip-hop culture and being labeled as "Reggaeton" music since Dancehall Reggae was so foreign to Indonesian ears.
I was brave enough to realize my duty to spread the message of reggae music and show many aspects and styles of the culture, that's why I see myself as Indonesia's Reggae Ambassador. My first album released in Indonesia was titled exactly that "Reggae Ambassador" in 2007. It is an album mixed of dancehall, roots reggae and hip-hop.
Luigi, how did you meet Ras?
LR: Well before I met Ras, I already heard his name and his work, this was before he was a reggae deejay, he was in a hardcore-metal band. I was quite a fan of him, his friend is my skate buddy so I got to listen to all his music through my friend. At that time Ras was in New York and I was in Jakarta and social media was not available at that time so we never communicated. The first time ever we met was in 2007 I think, Ras was already in Jakarta for quite some time and I just came back from Canada. Since then we started to chill and work together. And as I said before, once Ras came back from his European Tour, we formed Asia Afrika Soundsystem.
Can you tell me more about the foundation of Asia Afrika Soundsystem?
RM: The fundamentals of Asia-Afrika is simple. We're spreading the culture where it all started, Jamaica. The interesting thing is that when we started Asia-Afrika, again some were foreign to the concept of reggae in a DJ setting. We were even asked questions by a few soundsystems of other dj genres, if reggae can really work out as a soundsystem and DJ set. They just haven't realized yet that the house, techno, and electro selectors were actually emulating what Jamaican selectors were doing since 50 years ago.
Long road to carry for us as a soundsystem, I was motivated to build a soundsystem with Lionrock in part of my travels to Europe in 2008. I was amazed how healthy the soundsystem culture is in Europe, reggae sessions are almost daily. And we have that missing in Indonesia, Soundsystems where you hear and dance to big chunes new & old. The Wailers wouldn't get their break in Jamaica if it wasn't for travelling soundsystems from yard to yard bussing out the simmer down chune, so we (Asia-Afrika) keep it in that tradition. Our mission is to basically make people have a good time and dance but also to catch that energy of consciousness and strength.
The name Asia-Afrika Sound was derived from a political motion of Soekarno, the First President of Indonesia. He believed in the unity of African-Asian peoples, so to me what the Rasta message has voiced through Reggae music as a form of empowerment, we as Indonesians can relate to it, since both peoples were victims of colonial downpression. Other than that, Asia-Afrika can simply mean we, Lion Rock & Ras Muhamad are two Asians playing Afrocentric music because the core of Reggae music is just that, Africa!
How do you see reggae/ Jamaican influenced music developing in Indonesia?
LR: I'm not trying to be snob or anything as I'm not really good at playing music either yet its just that the reggae bands here don't seem to know how to deliver reggae music properly, to me the sounds is to weak. The most important part of reggae music is the bass and the drums, and many local reggae bands do not realize that, they just focus on the rhythm of the guitar.. I think the reggae bands here still need to research and learn to play the proper foundation sound of reggae music. But other than that, there are definitely positives coming out from the past few years.
RM: As in fan base for Reggae music in Indonesia, the following is unbelievably massive! I can say that outside Japan, we have the biggest number of reggae followers in Asia. But on the downside is that there are many 'Marley-ists' that are stuck on the "Legend" album. The other alignment is the Dub heads; they dislike the 'Marley-ists' but love Tubby and Perry. Only thing the Dub heads doesn't follow is the new cultural artist for instance Tarrus, Luciano, Sizzla and so on. And then there are the skinheads, who listen to reggae music that predates the Rasta era, so they stick to that and don't listen to the Rasta message since it "too black, too African" for them to relate.
We don't fall into partiality for reggae. We Love the culture and respect all aspects of it. I see that Jamaican music will be powerful force in Indonesia once we set aside all the labels of "A", "B" and just get on with the vibes. Forward still! I tell you that Asia-Afrika is the only sound in Southeast Asia that has direct links with Jamaica. Max Romeo, John Holt, Freddie McGregor just to name a few has worked with us. So dem chunes ago buss!!! Boom!
Further References:
Email:
Website:
http://www.asia-afrikasoundsystem.blogspot.com/
Facebook:
http://www.facebook.com/pages/Asia-Afrika-SoundSystem/196674367052895
http://www.facebook.com/groups/aasound45/
Soundcloud: