By: Yvette Benningshof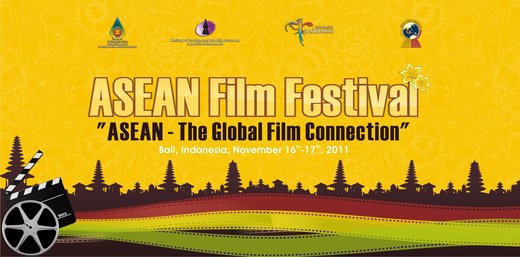 While outside the streets were buzzing with traffic and guarded transport because of the 19th ASEAN Summit in Nusa Dua, inside of Galeria 21 Cineplex in Kuta there was a comfortable coolness. The two day ASEAN Film Festival took place in this cinema, where at the same time BALINALE International Film Festival was held. Bali was the place to be for film lovers this month!
The ASEAN Film Festival (16-17 November) was initiated by the Minister of Tourism and Creative Economy Mari Elka Pangestu themed: 'The Global Film Connection'. The minister recognizes the importance of film festivals as a means of promoting culture and to support the country's potential as a film location. 'Film affects many area's: how people think, talk, act and it influences their ideals and dreams. On a larger scale it creates jobs and it has a mulitplier effect on other sectors such as music, design, fashion and technology.'
The two day festival consisted of three main events. A back to back screening of selected movies from each of the 10 ASEAN member countries, a film seminar for filmmakers, government officials, producers and stakeholders and a red carpet reception/gala dinner party. Each country aims to increase the role of their film industries domestically as well as an export product. Mari commented:
We want to share the experiences, learn from each other and strengthen our network."
The minister emphasizes the impact of film on tourism. In Indonesia there was an increase of local tourism to Belitung Island after the release of 'Laskar Pelangi' (2007). The film is based on the bestselling novel of Indonesia's favorite writer Andrea Hirata. Internationally Bali has become even more popular thanks to 'Eat, Pray, Love' (2010) starring Julia Roberts. The production generated 12,5 million US dollars for the local economy.
The Bali Film Center (BFC) played an important role in assisting the team of 'Eat, Pray, Love' in Bali while filming. The BFC, established by Deborah Gabinetti and Inneke Indriyani in 2002, is a small privately run company endorsed by the government. Gabinetti also founded the Balinale International Film Festival five years ago as a means of getting the global film industry interested in Indonesia. Her co-founder Indonesia's respected actress Christine Hakim plays the role of healer 'Wayan' in 'Eat, Pray, Love'.
Gabinetti explains: 'We actively look for projects that can be set here. Indonesia has capable crews and a vast untouched landscape. Once filmmakers get here, they see it's not so complicated or foreign as they thought. Then they are hooked and the word is out.'
To represent Indonesia at this ASEAN Film Festival the movie Di Bawah Lindungan Ka'Bah (Under the protection of Kaaba) was selected. It's based on the novel by the late prominent author Hamka about a lower class man who falls in love with the daughter of local nobility. The movie is Indonesia's submission for Best Foreign Language Film for the Academy Awards in February 2012.
Trailer:
'The weirdness of movie making'
Gabinetti invited a special guest from Hollywood for the film seminar: film producer and former vice-president of Universal Pictures Donna Smith. She supervised every movie made at Universal from 1989-1996. She oversaw an endless list of blockbusters including: The English Patient, The Matrix, Crouching Tiger/Hidden Dragon and Hero. Currently she runs Completions International in Los Angeles.
In her keynote speech 'Translating Asian stories into global films' Smith started off pointing out that Hollywood is sometimes mistaken for a city. 'There is a small district called Hollywood, but what we mean is an industry of six film studios in LA. The motion picture business is all about money, because we don't get a nickel from the government. That's why we need to make films that break through.'
Smith continued: 'I show the weirdness of movie making. There is so much money involved. One film costs more than 85 million US dollars. Three days delay on the schedule is another 900.000 dollars. We sometimes even insure snow and cornfields if we need to. For a lot of people films are passion projects, but motion pictures focuses on their main audience. And nowadays that is: 17 year old boys. Can you believe it?'
Smith's advise to get global exposure for Asian movies is through international film festivals, that is where the scouts and distributors are. 'Deborah Gabinetti worked hard to get the Indonesian premiere of 'Eat, Pray, Love' here last year at Balinale. And who else has two filmfestivals at the same time?'
Smith says it's tough, but not impossible, to get Asian films into Hollywood: 'The script of 'Crouching Tiger, Hidden Dragon' was great, but we had no movie stars who could perform the moves. When I met director Ang Lee in a high building in Hong Kong, there was a man 'Mister Pink' running up against the wall, making a salto and a flic flac. It was then I was convinced we could do it. We shot it almost entirely in China and left lots of dollars for the local economy behind.'
Piracy
To attract foreign filmmakers to choose Indonesia 'fiscal incentives' could be one of the keywords. Thailand offers this to foreign production companies. Surasak Sunpituksaree, director of the Thailand Film Office shows a range of figures and Box Office hits from 2010. Foreign productions made in Thailand have increased in a period of ten years with 441 in 2001 to 578 last year. Mostly they come from India, Japan and Europe.
Blockbusters still come from Hollywood with last year Harry Potter and the Deathly Hollows (part one) on top, shortly followed by Iron Man 2. 'We did have a decline in 2007 because of the increase of illegal dvd's and piracy', says Sunpituksaree. 'But as soon as they found out about the bad quality, people came back to the cinemas.'
Watch the trailer of Eternity (105 min., 2010, Best Film in Thailand National Film Awards 2011):
More freedom, more movies
The impact of Hollywood movies on cinema in ASEAN countries is huge, but people in the remote areas prefer to watch local films. Jose Miguel De La Rosa from the Film Development Council of The Philippines says that 90 percent of the films in their main cinemas comes from Hollywood. 'We have set up 'Cinematheque', a successful special program where we show old Phillipino movies for free. We encourage people to come to the cinema, because they stay at home to watch dvd's.'
The Council started several programs to develop the local film industry like a National Film Competition to encourage screenwriting. They also have mobile cinema's in remote areas. De La Rosa: 'Usually 50.000 people come to watch, it's promoted by the local tourism offices, so lots of tourists come as well.'
Best Picture at the FAP Movie Awards Philippines 2011  was Emir (135 min., 2010):
Another emerging film industry is Malaysia. Mohd Naguib Razak from FINAS (National Film Development Corporation Malaysia) used to be a successful independent documentary filmmaker: 'When the government was still very involved in the content, a lot more propaganda-like films came out. Now, the industry is liberal, filmmakers have freedom and the market is growing. We should focus on our own subject matter and not so much on Hollywood.'
Malaysian film Bunohan (97 min., 2011) was Malaysia's most exported film and was screened at the Toronto International Film Festival 2011:
Focus on local life stories
Vu Thi Hong Nga from the Cinema Department of Vietnam says that in her country most movies come from Hollywood as well and that people in the cities like to watch them. 'But tickets are expensive (3,2 USD) and people prefer to buy the cheap illegal dvds. We also have to train our audience, because the teenagers are influenced by the media and only like western movies.'
For a population of 85 million Vietnam has 107 theaters including 500 mobile cinemas. 'Film marketing and promotion has just recently been introduced in my country. We still have a long way to go to improve distribution and promoting Vietnamese films.'
Vietnamese production 'Don't Burn (100 min, 2009) won the Audience Award at the Fukuoka International Film Festival 2009:
Laos stands at the beginning of developing their industry. The country has 6,5 million people mostly living in remote areas. Laos does have International Film Festivals in the cities of Luang Prabang and Vientiane. Vongchith Phommachak, from the Lao Cinema Department that was established in 2008, says: 'We have a huge country, but only 10 theaters. We used to make one or two films per year, maybe next year we can make three. We have to invest in our local production teams, now we still co-produce with Thailand. We don't have a budget for action films, that's why we focus on local life and society related issues.'
One of the other guest speakers was Gabrielle Kelly from New York, arts professor at NYU Tisch Asia in Singapore. She has a lot of experience working as a producer and filmmaker in Asia. 'A growing film industry also depends on developing good film trainings. You need to have a good script, but the way of telling a story might be different from a western and eastern perspective. ASEAN countries can develop their own film culture and maybe later if Hollywood is interested: nice. But it should not be the goal, because even in America it's already difficult to reach that.'